Being one of the main trio, Mr. Blik has shown up in every episode of
Catscratch
. Below is a list of where exactly he's seen in each of his appearances throughout the
Catscratch
series. (More to be added!)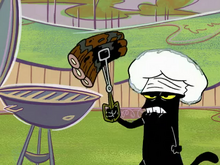 Mr. Blik is seen cooking his best ribs with the intent to win the town's Barbecue Cook-Off. Sadly, his best wouldn't be enough, as he is known to be the worst cook in the world.
After his brother, Gordon, tells him the tale of Duke Eark Splee, Blik gets the idea to cook with rocks from the moon. He then brings his brothers along to an illustrious journey to the moon, and his brothers have some plans of their own for the trip.
Mr. Blik is determined to get those rocks, but also has to keep his brothers from goofing off, which they inevitably do. Luckily, Gordon's activity lands the moon rocks into Gear, and Blik thanks him.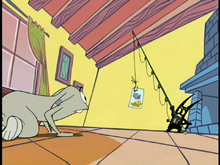 Mr. Blik is seen begrudgingly training Waffle to be a great mouse hunter, as Waffle really wants to go to the Mouse Hunters Ball with his brothers.